​
Ubisoft has accidentally revealed the release date of Assassin's Creed Codename Red. Following the 2022 Ubisoft Forward event, the publisher has accelerated the development of more Assassin's Creed projects for the next few years and Assassin's Creed Codename Red is considered one of the hottest titles. attractions of this franchise. And it looks like fans won't have to wait too long to experience the game.
The publisher said that Codename Red will take place in feudal Japan, one of the most anticipated fan settings for Assassin's Creed IP. Although details about the game are still quite limited, rumors that the game will feature two main characters, a samurai and a shinobi, have been circulating among players for a while.
​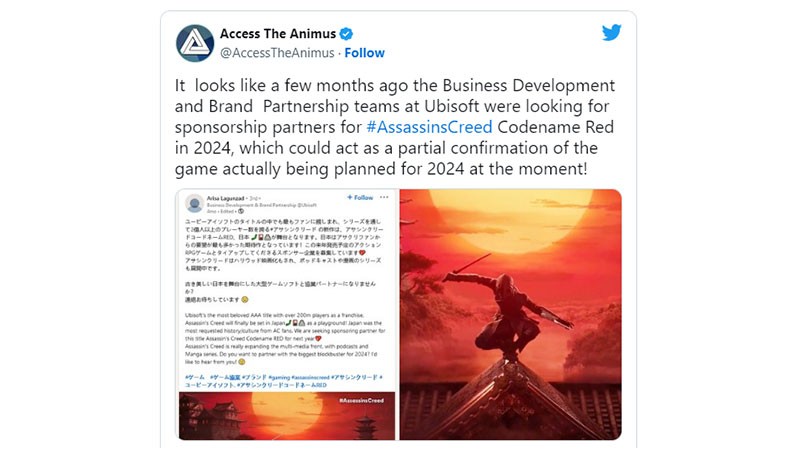 ​
Recently, another notable detail about Codename Red surfaced online. As the Twitter account "Access The Animus" discovered, a LinkedIn post from Ubisoft staff mentioned that the publisher is looking for a partner in Japan to promote "the biggest blockbuster of 2024". The post has been edited to remove the 2024 information, though the Japanese text still says that Ubisoft is looking for partners to sponsor Assassin's Creed Codename Red next year. This detail partly confirms previous rumors about Codename Red's release date.
Codename Red isn't the only intriguing addition to the Assassin's Creed franchise. Codename Hexe with a witch theme is also intended to be another ambitious game. The game is set in Germany in the late 16th and early 17th centuries during the reign of the Roman Empire. Interestingly, players will be able to experience both games via Assassin's Creed Infinity, the live service hub for future titles in the series.
​